Here's your free gift from Loren:

"The Caregiver's Step-By-Step Guide to Take Back Your Life"
STEP-BY-STEP
TAKE BACK YOUR LIFE
PROCESS STEPS ROADMAP: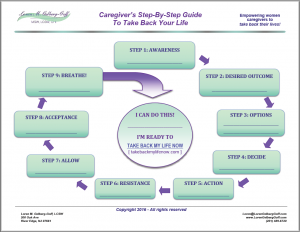 Click image to view and download.
This printable "roadmap" of the self-inquiry Q&A process Loren walks you through in the audio is the perfect companion to the recording. It has space for you to write in your unique answers to the 9 questions she'll ask you as you go through the process. Print out a new copy each time you are dealing with an issue that has you stuck or upset. You'll continue to learn and grow every time you use it!
STEP-BY-STEP
TRAINING AUDIO: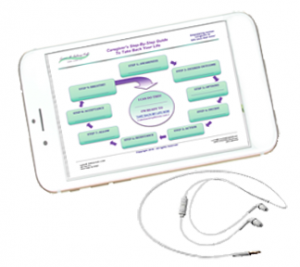 Click image to view and download.
In this 14-minute recording, Loren walks you through the 9 steps to getting from a state of feeling stressed, overwhelmed or upset to one where you are in charge of your emotions, feeling more peaceful and clear-headed, and allowing your natural problem-solving creativity to identify actions you can take to get the kind of life experience as well as the practical results you really want!
FULL PDF TRANSCRIPT OF THE TRAINING AUDIO: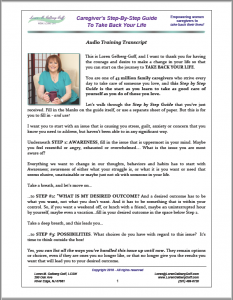 Click image to view and download.
This pdf transcript of the audio is great for those who prefer reading to listening. As a bonus, if you've never had a private consultation with Loren, use the link on the last page to schedule a complimentary 1-on-1 call – her gift to help you get your life back even faster!
NOTE that both the Steps Roadmap (in the center oval) and the transcript (on the last page) include links to Loren's calendar for scheduling your complimentary 1-on-1 call. Be sure to book a call with Loren for whatever time works best for you…or just click

HERE

now!
Don't miss the opportunity to speak directly with Loren and get your most pressing question answered – what you can learn in just a half hour consult with her can be life-changing. Your bonus for completing this Step-By-Step training.
Loren looks forward to speaking with you, and helping you make radical progress on your biggest challenge as a caregiver!
© Copyright 2018
Loren Gelberg-Goff and Well Within.
All rights reserved.
Privacy Policy
We will never share your information without your permission.