Workshops for Individuals, Groups and Organizations
In-person workshops provide an opportunity to quickly learn new skills, then practice applying them to your own particular challenges and circumstances.
~
The targeted guidance and feedback Loren provides helps you increase your effectiveness, and therefore the results you experience in your life.
The next opportunity for live training with Loren is a 2-part seminar coming up in late October:
Caring for Your Ailing Loved One
– part of the Ridgewood Community School Fall Programs
Are you assuming more responsibility for your aging parents or ailing spouse? Don't know where to turn? Join this class to get help with:
finding the right health care and living arrangements
helping them get their financial lives in order
making sure they have the appropriate estate planning documents
figuring out if and how Medicaid and Veteran's benefits apply
balancing their needs with your own emotional needs and responsibilities
2 Wednesday Evening Sessions – Oct 26 & Nov 2,
from 7:00 pm to 9:00 pm
at the Ridgewood High School
in Ridgewood, New Jersey
For more information and to register, CLICK HERE or call the school at (201) 670-2777.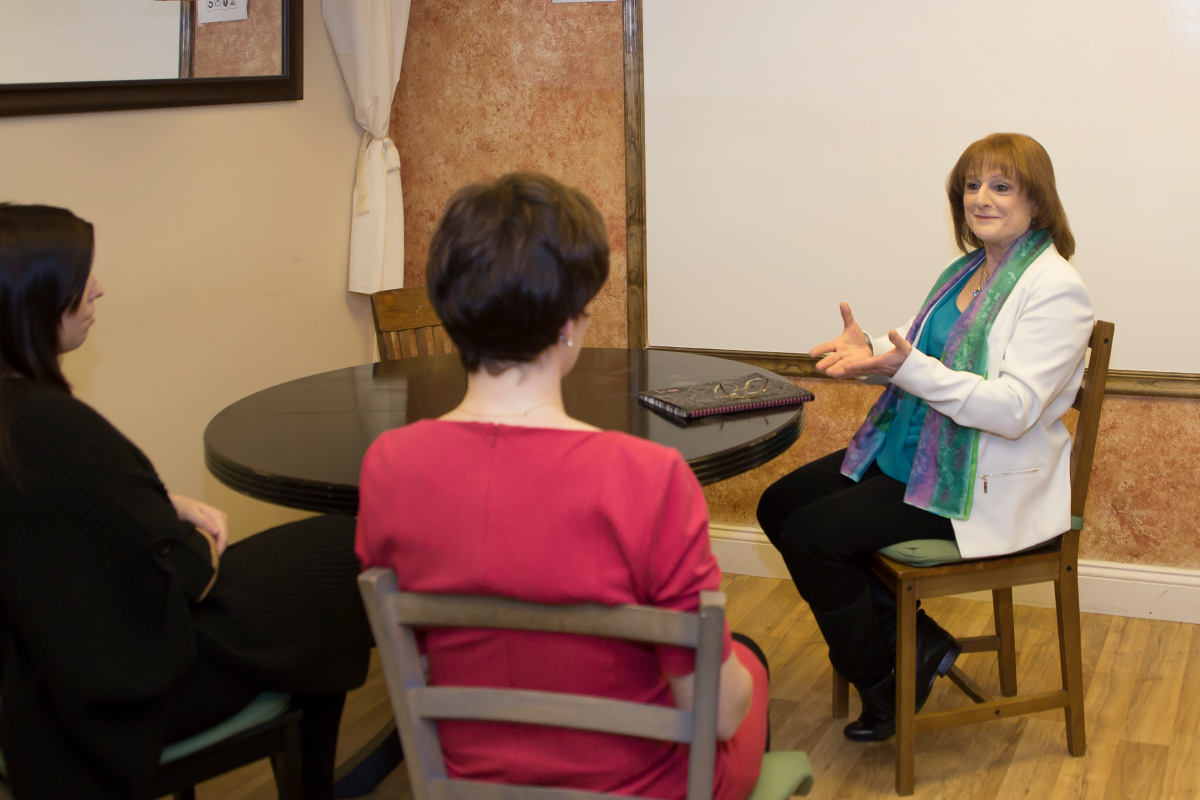 Loren has been the keynote speaker for numerous groups and events, including:
NJ Coalition for Care Givers
NJ Association of Women Business Owners
Bergen County Professional Women's Network
Lincoln Tech Nursing Program
Fortune 500 company health and wellness programs
…and many more!
~
Check out Loren's books:

~ Being Well Within: From Distressed to De-Stressed is available in print and Kindle editions.
~ Watch for Loren's forthcoming book for caregivers: "And We Breathe" … coming soon!
Loren Gelberg-Goff, MSW, LCSW, CHt, is founder and CEO of Well Within, a gifted psychotherapist, author and speaker.
Loren is best known for creating popular, life-changing programs for women caregivers: "Self-Care Counts" and "Take Back Your Life: The Art of Self-Care." She believes that everyone has the power to live free of chronic, daily anxiety and overwhelm without having to constantly feel guilt, anger or resentment.
Loren's book, Being Well Within: From Distressed to De-Stressed is designed to put women in the driver's seat, giving them the power to choose what they really want in their lives. By taking charge of their wellbeing, readers can quickly go from just getting by…to enjoying true peace of mind and fulfillment.
Here's what one attendee had to say about the Forgiveness Workshop:
"I love and appreciate all the material you put together for this workshop that reinforces and supports all the work we did today!
This was so helpful for me personally and professionally. The combination of talking, exercises, demonstrations, writing, visualizations, etc. made today so powerful and all-encompassing.
Thank you so much for offering this program and making it possible for me to attend. I already see the myriad of ways I will benefit from your wisdom and expertise.
I hope and plan to attend whatever workshops and programs you provide because what you offer is so incredibly powerful and meaningful in so many areas of my life. Thank you, thank you."
~ A.S.
…and some testimonials from Loren's work with groups and individuals:
"Loren's insights, support and guidance opened my life to so much more joy and abundance I never realized before. My marriage has improved, I have more compassion for my aging parents and my overall health has even improved. I laugh more readily now, and to think I thought I forgot how to enjoy life. I am forever grateful for working with Loren and all that our work together has done for me."
~ A.C.
"Loren just gets it; she makes big issues understandable and manageable. I never thought about being part of a group, but this just works."
~ N.L.
"I would stay in this group forever because I keep learning new things and hearing the information with new awareness. It's the best thing I've ever done for myself."
~ C.P.
© Copyright 2018
Loren Gelberg-Goff and Well Within.
All rights reserved.
Privacy Policy
We will never share your information without your permission.